Here are my top red kitchen wall clocks. There are makes and models that will fit in with any kitchen design. Choose from retro, modern, funky, whimsical, red rooster, red apple designs.
In a hurry?
Red Rooster Kitchen Clocks
Red rooster decor themes are very popular in a kitchen. Here are 3 of my favorites. I particularly love the rooster clock featured below centre that is made from metal and is beautifully hand painted.
Quartz Movement Silent Non-Ticking Wooden Wall Clocks 
Colorful Hand-painted Metal Rooster Wall Clock
Barnwood Rooster Wall Clock,  Whisper Quiet, non-ticking
Retro Red Kitchen Clocks
These wall clocks all have that 1950 or 60's look of a diner from that time. I like the square clock featured below, very retro looking, but wouldn't look out of place in a modern setting.
Infinity Instruments Retro Round Metal Wall Clock, Red
Retro Kitchen Timer Wall Clock, Red. By Lily's Home
Square Retro Kitchen Wall Clock, Large Dial Quartz Timepiece, Red, 11"
Red Rustic Style Kitchen Clocks
Here is a selection of rustic themed red kitchen clocks. I just love the right-hand clock below with a background pattern of old wooden planks, through the gap is a cheeky little cat peeking through.
Round Black And Cherry Red Decorative Clock Quartz movement
Rustic Retro Vintage Red Car Kitchen Wall Clock
Red Barn Boards with Barn Cat pattern WALL CLOCK rustic cabin Clock
Shabby Chic Kitchen Wall Clocks
Here is a selection of Shabby Chic inspired wall clocks. Shabby chic is a decor style that is very popular for kitchens.
Large Shabby Chic Rustic Wall Clock. 'Roses De Paris' with Flowers Rose
Vintage Wooden Wall Clock Large Shabby Chic Rustic Kitchen Home
Wooden Clock Shabby Chic Retro Rose Flower Wooden Wall Clock Kitchen
Modern Red Kitchen Wall Clocks
Here are my top picks for kitchen clocks that would suit a home with modern decor. Some of these clocks are very large and are designed to make a WOW! statement.
3d Big Digital Modern Contemporary Home Office Decor Round Quartz Wall Clock (Red)
Umbra Ribbon Wall Clock, Stainless Steel
Digital Modern Contemporary Home  Decor Round Wall Clock Red
DIY Mirror Surface Wall Clocks Modern Design Decorative Wall Clock (Red)
koziol SILK Modern Red Wall Clock with White Clock Hands
DIY Wall Mirror Clock Colored Circles, Modern Design for Kitchens
Cutlery Red Kitchen Wall Clock
How cute and quirky are these clocks that are made from pieces of cutlery and kitchen utensils? These would look great in any kitchen and would certainly be a talking point.
Red Metal Kitchen Cutlery Utensil Wall Clock Spoon Fork Home Decor
Cutlery and Kitchen Utensil Wall Clock, with a red Clock Face
Non-ticking Wall Clock, Kitchen Metal Material, Indoor/Outdoor Red
Funky Red Kitchen Wall Clocks
These are some red kitchen clocks that are a bit different. I love the funky design of the clock featured in the center below. Weirdly this reminds me of pocket watches!!!
Infinity Instruments Red Modern Abstract Design Kitchen Clock
JustNile Simplicity Red and Black Modern Design Kitchen Clock
DIY Interior Decoration Number Red Coffee Clock Wall Sticker
Red Apple Kitchen Wall Clocks
Red apples are a common theme in kitchen designs. Here is a selection of my favorites. I like the first one featured below as it has a superb photograph of fresh apples with leaves, and it also glows in the dark. How cool is that?
Glow In the Dark Wall Clock – Red Apple Design White Numbers
Red Apple Fruit Kitchen Wall Clock, Red Apples with a Black Background
Red Apple Design Kitchen Clock with a Heart Shaped Apple Bite
Apple Wall Clock, Available in 8 sizes, Whisper Quiet, non-ticking
Kole Red Apple Design Wall Clock Retro Look
Washington Apple Wall Clock, Available in 8 sizes, Whisper Quiet, non-ticking
Red Chili Pepper Kitchen Wall Clocks
Here is a selection of bright and cheery red pepper clocks. These will look fantastic in a red chili pepper themed kitchen.
RED CHILI PEPPERS Wall Clock kitchen hot chef new gift
Western Red /chili Wall Clock, 15-1/2
Southwestern Chili Peppers 12
Red Tomato Kitchen Wall Clocks
Red tomato kitchen accessories are a popular choice to add pops of red color to your kitchen.
Vintage Red Tomato Fruit Art Wall Clock, 13 by 13-Inch
Red Tomatoes with Vine Wall Clock, 10 by 10-Inch
TOMATO  KITCHEN CLOCK Decorative Round Wall Clock Large 
Fun Art Inspired Red Kitchen Clocks
These clocks are just good fun. They feature creative artworks, both with photography, painting and drawing. A quirky design is the picture of a person holding a red watermelon in front of her mouth.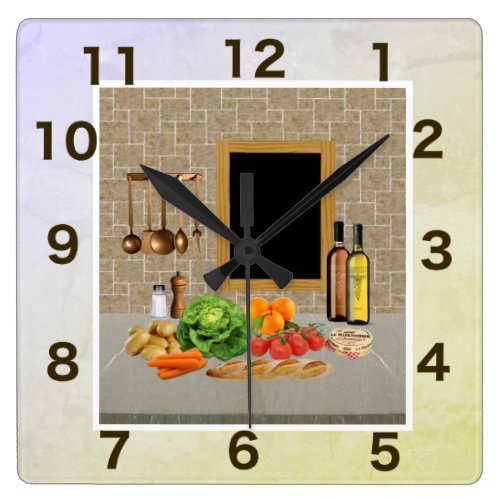 Square kitchen clock with vegetables and olive oil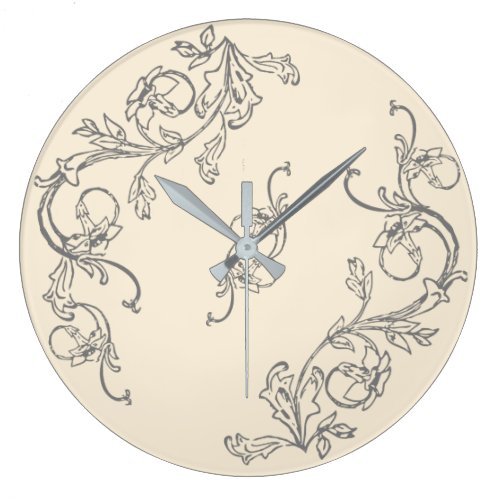 Dream Kitchen Design Series. Choose Color! Large Clock

Funny woman with juicy fruit smile square wall clock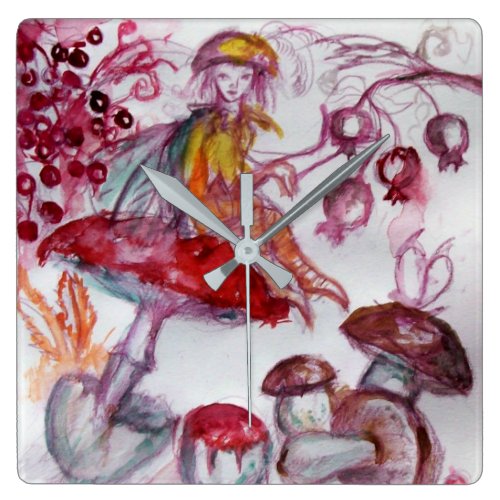 MAGIC FOLLET OF MUSHROOMS Red Floral Fantasy Square Wall Clock

Vintage rolling pin up girl making cooking fun round clock

Surrealist landscape Inspired Kitchen Wall Clock